Jarnee/JR Just Jillaroos second litter was with the Australian male Otwaymist Tuxedo, who 4 years old was imported from Australia to Finland by Mr Jouni Heikkinen at Jackxellent Jack Russells. The puppies were born on December 26, 2008, four males and three females, all white & tan.

I had the pleasure to meet Tux and Juoni at the World Dog Show in Stockholm 2008 where Tux was shown with an excellent at The Jack Russell World Speciality.

Tux has an interesting pedigree and I look forward to get the bloodlines of his mother into my breeding program. His father is AUCH NZCH Pineview Drum Na Drochit whom I also am happy to have in both my MacBraedly boys.
All four littermates of The Malung Famous Four are represented in the pedigree, the COI for the litter for nine generations is 4,5%.



The puppies three days old.


Dextra


Dexter - Didrix


Otwaymist Tuxedo
"Tux"


Jarnee/JR Just Jillaroo
"Jilly"

LVCH EECH SUCH
OTWAYMIST TUXEDO
ER24124/08
ANKC3100116921
Tricolour
Broken
AUCH NZCH
PINEVIEW DRUM NA DROCHIT
Rough
AUCH
TARSIA MONOCLE OF BOHUNT
PINEVIEW CORKEY
OTWAYMIST SOLITAIRE
Rough
AUCH
JASETPARK HOT SPOT
JASETPARK WASA GEM
JARNEE/JR JUST JILLAROO
S25638/2005
ANKC2100199676
White, Tan
Broken
JARNEE/JR JUST MAC
Rough
AUCH
JARNEE/JR JUST JOCK
AUCH
MALUNG/JR MELANTHA
JARNEE/JR JUST FOR SURE
Smooth
AUCH
BAYLOCK CALYPSO COFFEE
AUCH
JARNEE/JR JUST KATY JANE


Otwaymist Tuxedo - front

Jarnee/JR Just Jillaroo - front

Otwaymist Tuxedo - head

Jarnee/JR Just Jillaroo - head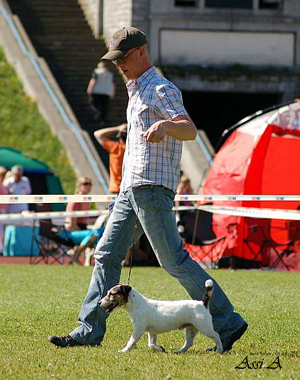 Tux and Jouni at their first Show at Estonia Winner Show. Tux is not allowed to be shown in Finland, as his tail is docked.

"Good size, good color, very correct head. Well carried neck, excellent top and underline. Good shoulders in front, excellent anglulations back. Excellent movement."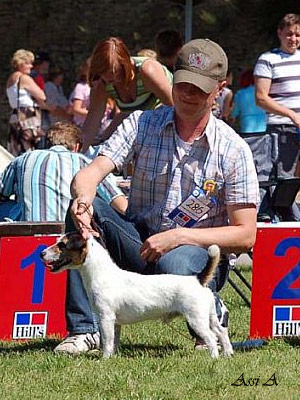 Tux BOB and CAC at Show in Haapsalu, Estonia. Judge Svante Frisk, Sweden.

"Excellent male, lovely outlines, carry head very powerful, head with good muscles. Sissor bite, excellent topline. Very good hindquarters, good shoulders in upperarms. Lovely fore chest. Powerful mover with a lot of soundness. A bit short in coat but very good quality."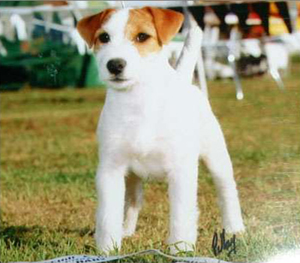 AUCH NZCH Pineview Drum Na Drochit
Drum was bred by Mrs Maryke Franceschi, Pineview Kennels in 1996. He has made a tremendous impact on the Australian JRT by bringing some of the best of the English blood into the breed. He was owned by Mrs Joy Revie, Joyreve Kennels.

AUCH NZCH
Pineview
Drum Na Drochit
ANKC1596725
Tan, White
AUCH
Tarsia Monocle Of Bohunt (Imp UK)
ANKC130-90
White,Tan
Tarsia Dracula (UK)
021-89
Willy (B.Sayner) (UK)
Tarsia Poison (UK)
Tarsia Piggy Malone (UK)
072-88
Tarsia Wasp (UK)
Tarsia Dinghey (UK)
Pineview Corkey
JR9772
Dark, Tan, White
Wypanda Jacko
JR5121
Foxmans Butch
Susan of Wypanda
Earlham Jessie
JR4229
Marong Timothy
Dubbsville Topsey




Updated 2009-03-06
© Christina Areskough | info@ducklings.se