In the beginning of June 2007 Jarnee/JR Just Jillaroo was mated to Multi CH Wolfhouse Upbeat, imported 2003 in utero to Denmark from Australia. The puppies were born on August 3, 2007, four males and four females.

Prop is a smooth coat and carries the famous Baylock lines, well know and exported all over the world. The litter have an 100% Australian pedigree, with at least eight known generations of ancestors.



15 days old.


At eight weeks Duckling's JR Just Boogie Beat,
Backbeat and Blues Beat stayed with me.


CH Wolfhouse Upbeat
"Prop"


Jarnee/JR Just Jillaroo
"Jilly"

INTCH DKCH NCH KBHV04
WOLFHOUSE UPBEAT
DK04629/2003
Smooth
AUGRCH
COLEANN BROWN LAGAR
Rough
AUCH
GAYREGAL FIRE WATER
AUCH
CHUMCREEK/JR SHANDY
AUCH
BAYLOCK CLASSIC
Smooth
AUCH
BAYLOCK ROB ROY
BAYLOCK ADVOKATT
JARNEE/JR JUST JILLAROO
S25638/2005
Broken
JARNEE/JR JUST MAC
Rough
AUCH
JARNEE/JR JUST JOCK
AUCH
MALUNG/JR MELANTHA
JARNEE/JR JUST FOR SURE
Smooth
AUCH
BAYLOCK CALYPSO COFFEE
AUCH
JARNEE/JR JUST KATY JANE


Three weeks to go and a little tired.
No wonder, who could guess it was eight puppies!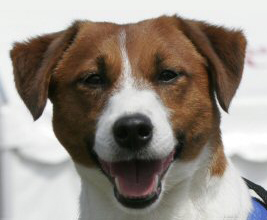 CH Wolfhouse Upbeat - head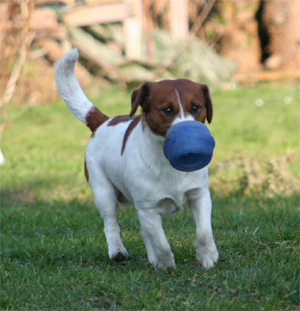 CH Wolfhouse Upbeat

Prop was sired when his father AUGRCH Coleann Brown Lagar
was eleven years old.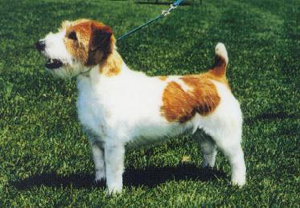 AUGRCH Coleann Brown Lagar
1992 - 2006
The first Australian Champion was Malung Jim Beam, who was also the first Jack to go Best in Show at an All Breeds Show. Baylock Kennels owned and used AUCH Malung Jim Beam as their senior sire and line bred to him. He was one of four puppies in the famous litter called The Malung Famous Four.



The Malung Famous Four...

A grandson of AUCH Malung Jim Beam - Coleann Brown Lagar - also owned by Baylock Kennels, was a multi BIG and BIS winner and dominated the show ring in the early years of his career. He took out Open Puppy in Show at Adelaide Royal in 1993 and went on to win 65 groups and 22 Best in Show awards including Best of Breed at both Melbourne and Adelaide Royals, as well as Best Intermediate in Show at both the Spring Fair and the Spring Classic in Sydney.

Lagar was a great producer - his son, Baylock Rob Roy, has been Best of Breed at both Melbourne and Adelaide Royals and his grandson, Baylock Bobby Dazzler, has won Best in Show at All Breeds Shows. Lagar also has successful progeny all over the world.



More about the Baylock Kennels...

AUCH Baylock Classic
1997 - 2011

Dorte-Martina - The Bandits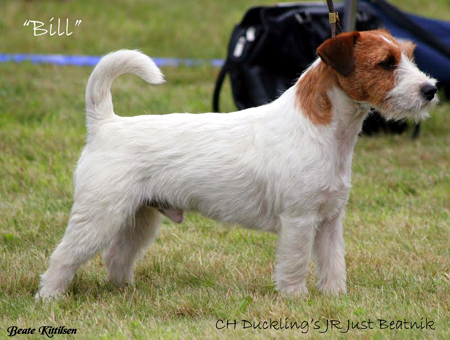 In the first litter with pure Australian bloodlines "Bill", Duckling's JR Just Beatnik was born.
He was successful in the Show ring during 2008 and 2009. Bill finished 2008 by getting BOB and become Finnish Winner in Helsinki in December, where 89 JRTs were entered.
Bill was already Danish Champion 18 months old and he can add World Winner 2010, Swedish Winner 2009, C.I.B, Swedish, Norwegian, Finnish and Nordic Champion and Club Winner 2009 to his titles. Bill ended 2009 by winning the Terrier Group and stand BIS 3 at HUND2009, a fantastic finale of the year!

Bill was, at World Dog Show in Denmark 2010, Best Of Breed over 146 Jack Russell Terriers and World Winner 2010.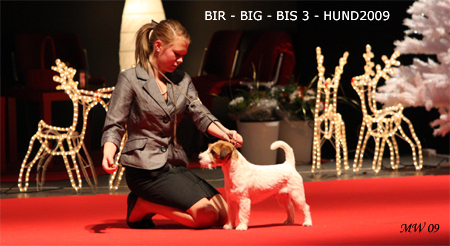 Handler Vilhelmiina Walldén




Updated 2014-07-03
© Christina Areskough | info@ducklings.se